Vintage wedding car hire Middlesbrough. With six rear passenger seats our Imperial wedding limousine is perfect for your special day. If you think you deserve the best then give us a call on 01642 206607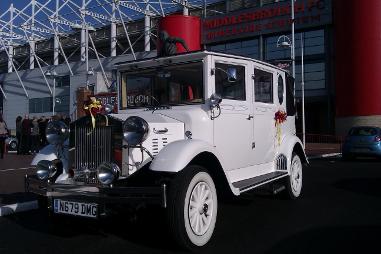 Providing the best service at the best price since 1985. As you can see below our immaculately presented wedding cars and limousines can be decorated with silk flowers and ribbons to match your chosen colour theme. The decorations are made especially for your wedding so all you have to do is tell us what you want then leave the rest to us. With complimentary drinks , our customers receive the best service at the best price, form the best wedding car company in the north east. We make it easy. Our prices are per wedding not per hour so there will be no nasty surprises or extra charges. We only ask a £50 deposit to hold your booking with the balance payable any time up until the day of your wedding.
Contact us on 01642 206607 07901017771 07933325030 today or email blisslimohire@talktalk.net
Vintage style wedding car with six rear passengers seats. Comes decorated in your choice of colours. Fold down rear hood for those special photos.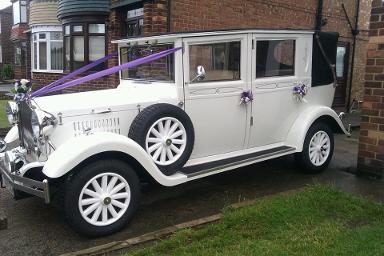 Wedding cars and limousines for your special day. Established 1984. Wedding cars at very reasonable prices. Call for a quote today.
Beautiful bridal cars for your special day. The best selection in the north east and decorated in your own choice of colours. We cover Middlesbrough and the whole of the north east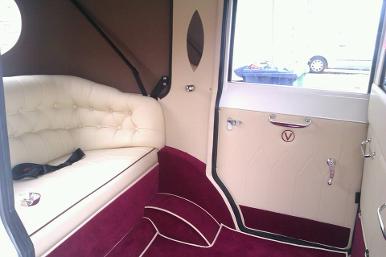 8 seat wedding limousine hire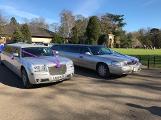 We match your colour theme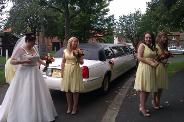 Our beautiful matching pair of Chryslers for your special day. Chrysler 300c saloon and Chrysler 300c 8 seat limousine decorated in your choice of colours. Both in stunning metalic silver.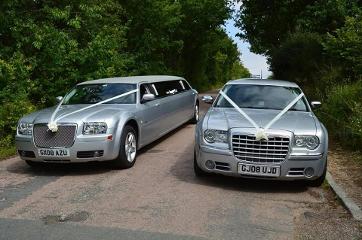 Why not book your wedding car with Bliss Limousine Hire Middlesbrough Wedding car hire TS60BZ
We have been providing the people of Middlesbrough and the North East with a superior wedding car hire service since 1985 and with attention to detail that can't be matched, and a determination to offer the best possible service at the best possible price, you can be sure that your wedding day transport is in the best possible hands.
What do I get for my money.
Our 8 seat limousine will be beautifully decorated with silk flowers and ribbons in your own choice of colours enabling us to match your colour theme. We stock a massive selection of silk flowers and ribbons in all the popular colours and if we haven't got exactly what you want we will get it for you. All you have to do is tell us what you require then leave the rest to us. Your limousine decorations are made specifically for your wedding so please give us as much notice as possible. Complimentary drinks are also provided.
What will I expect to pay.
For the outstanding service you will receive you would expect to pay a premium price. Bliss Limousine Hire have a fair pricing policy so our prices are per wedding and not per hour. You know exactly what you have to pay before you book so there are no nasty surprises when it comes to settling the bill. We will give you our best possible quote once we know exactly what you need but our mid week register office weddings start at £195 depending on the distance and amount of trips etc. Our peek weekend prices start at £240 to £280 which on average is what you will expect to pay if you book our limousine for your wedding. Our prices do include as many trips as practicable taking into account the distance and time constraints as you don't really want your guests waiting around for a lift especially if the weather is bad. We collect the groom and up to 7 passengers and take him to the wedding venue. We then collect the bridesmaids and take them to the wedding venue before going back for the bride. As our limousine seats 8 passengers in comfort the bride and bridesmaids can travel together if you would rather.. Please contact us to discuss your individual requirements so we can give you a quote. Just a £50 deposit is required to hold your booking and you can pay the balance in instalments or in full any time up to and including the day.
Our vehicles and staff.
Our vehicles are maintained regardless of cost and have safety inspections carried out by a DVSA approved MOT testing station at least every 10 weeks. In addition to this we carry out our own safety inspections on a daily basis before our vehicles are taken out onto the road. Our drivers and staff are either family members or have been known to us for many years. Everyone connected with our company have to be of good repute and have undergone the necessary police, council, DVSA, and CRB checks. if applicable.
Licensed and insured. (where applicable)
For your comfort and safety we are properly licensed and insured to carry fare paying passengers for hire and reward. We also have the necessary public liability insurance.
For wedding car hire Middlesbrough, wedding car hire Redcar, wedding car hire Stockton, wedding car hire Hartlepool, wedding car hire Darlington, wedding car hire Whitby, wedding car hire Durham, wedding car hire Cleveland, wedding car hire Sunderland, wedding car hire Newcastle, wedding car hire North East see our other websites www.partyinabus.co.uk www.mypartylimo.co.uk www.blisslimohire.co.uk www.1st4weddingcarhire.co.uk www.blisspartybushire.co.uk www.limohiremiddlesbrough.com
https://www.facebook.com/firstforwedding